GSP Menu Page | MathBits Main Page
Hitting the Slopes with Ski Bird
(already made -- ready to use file)

(Materials for use with Geometer's Sketchpad 4.0 or higher -- not GSP 3.0)
Help students to understand and remember the concept of slope.
This program was designed to be shown on a 800 x 600 computer screen.
This is one file with only 1 page. To be used as a demonstration by teacher or as an investigation by students.
General (and simple) Directions:

Use the "sliders" on the page to control the size of m (the slope) and b (the y-intercept). When a line is drawn, "grab" (by clicking on) a Ski Bird graphic and place him on the line to reinforce the concept being discussed.

To end the exploration, choose FILE - CLOSE. When the box asking if you wish to "Save Changes" appears, choose NO. This will keep the file in the same state as when you started working. None of the students' changes (or messing) will be saved.
SkiBirdSlope.gsp
Notesheet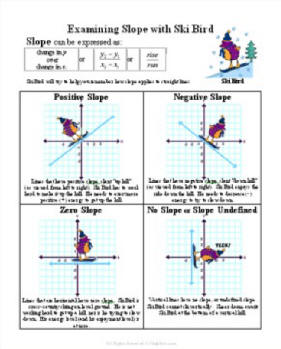 GSP Menu Page | MathBits Main Page