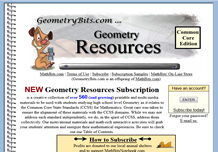 • GeometryBits Resources

Common Core Edition
Worksheets, activities, labs, games (hardcopy & interactive) - for teachers.
Free samples available.
•
Using Geometer's Sketchpad
Worksheets and ready made files for using Geometer's Sketchpad Version 4+; Examining angles in polygons, Examining quadrilaterals, Transformations, Angles in Circles, Segments in Circles. Also direction pages for students to develop files. Topics: Transformations, Tangent to Circle from External Point, Angles and Parallel Lines (and more)
Math & the Movies Resources
 Worksheets at Geometry level:
 
 • 

Alice in Wonderland

 
 • 

Donald in Mathmagic Land

 
 • 

Star Trek: Tribbles

 
 • 

The Matrix Revolutions

 
 •

The Wizard of Oz

 
 • 

Harry Potter - Sorcerer's Stone

 • 

October Sky

Answers available for teachers and parents by request only.