Copy of email sent to Donna from FreeKibble.com. Yes, we are helping! Please help if you can!
Our soldiers have given so much for us. This is a small thing we can do for them.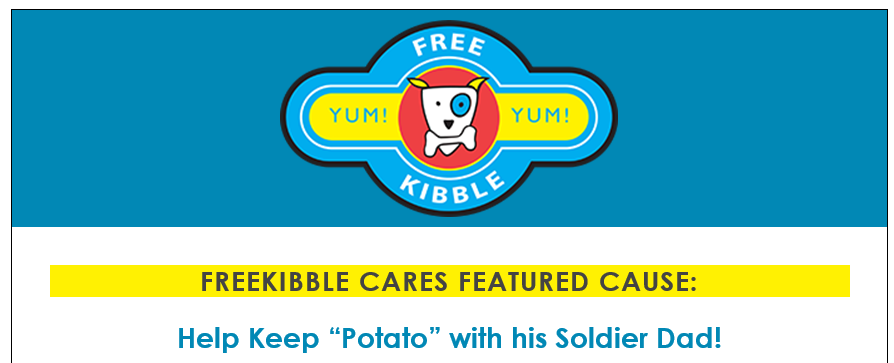 Kevin, AKA "Potato" hoping to go home with his soldier dad.
A Marine stationed in a remote outpost in Afghanistan found an abandoned puppy hiding under a building in their camp. Scared, without a mother and too young to take care of himself, the odds were against him… had it not been for a soldier with a big heart.

Marine and his puppy hoping to stay together -
"he will love my family back home"
Since that moment, the soldier and his puppy Kevin (AKA "Potato"), have formed an inseparable bond. Potato sleeps under his soldier dad's bed every night and gets all the TLC he deserves. He's also made life better for the soldier that saved him - who desperately wants to take him home.
But it costs a lot and the soldiers need our help in bringing their dogs home.
CLICK HERE TO HELP "POTATO" GO HOME WITH HIS SOLDER DAD!
The men and women that serve our country deserve to stay with their companion animals.


Toz and his soldier dad have made it home from Syria together!

With your help, soldiers can save the puppies that saved them.
Please let us know if you have any questions: info@freekibble.com